When I moved to North Carolina, I never imagined the treasures this state would have in store. I moved to Charlotte, unexpectedly and discovered in many ways Western North Carolina wasn't too different from New England. From Charlotte it's between 90 – 150 minutes to the mountains and about 3 hours to scads of beaches. Also the craft beer scene matches and dare I say exceeds, my beloved Vermont brews.
For me the biggest change was swapping out seafood for barbecue – yummy in a more indulgent way! This page will serve to help educate visitors and new comers to its natural wonders.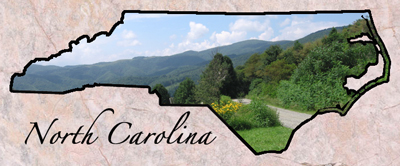 Western North Carolina is land of grandeur. It is home to the highest mountain (Mt. Mitchell at 6,684 sq.ft) & the tallest waterfall (Whitewater Falls) on the East Coast. Maids tremble in fear at the thought of cleaning the largest private residence (The Biltmore Estate & its 250 rooms). While atop Grandfather Mountain, you can walk across a mile-high suspension bridge.
Charlotte, the largest city in the region was the heart of the original frontier during colonial era. Deemed a "Hornet's Nest" by the British, there has long been an independent strike by its residents. Charlotte celebrates Meck Day on May 20th to commemorate the reading of the Mecklenburg Declaration of Independence on 5/20/1775 following the battles of Lexington & Concord. It is considered to be the first Declaration of Independence against Britain and an inspiration for Thomas Jefferson. Today, the population is just under 900,000, roughly 45% the size of the state capital of Raleigh. Other cities to visit include Greensboro, Winston-Salem, Boone and Asheville.
If you are looking for a trip filled with natural wonders, delicious food and warm hospitality, then Western North Carolina is the spot for you!